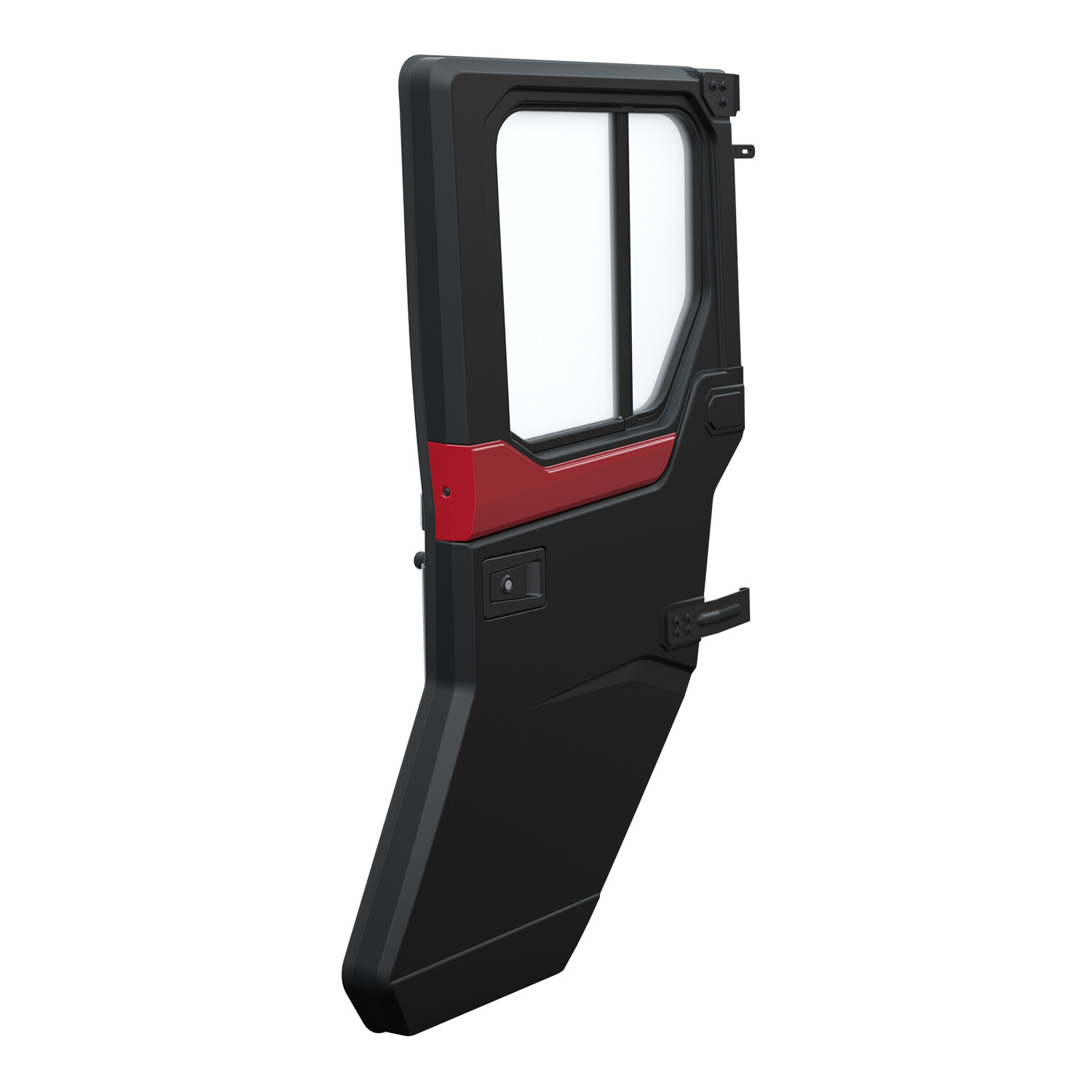 Polaris RANGER Rear Manual Crank Window Doors - 2889812
2889812
Product Details
Polaris RANGER Rear Manual Crank Window Doors - 2889812
Complete your cab enclosure with a set of premium, perfectly-fitting Manual Rear Doors. Engineered with automotive-quality style, this Polaris RANGER® door system creates a comfortable and quiet cab experience while keeping out mud, tire spray and debris.
These RANGER® doors fit perfectly into the ROPs with predesignated mounting locations and provide quick on & off removal after initial installation. The manual utv doors feature a sure-closing, tight sealing 360° gasket seal at the ROPs, and the glass windows can be adjusted infinitely with the crank. With rear hinging, getting in and out of your cab has never been easier. The 1-inch tubular steel frame lines laminate safety glass that blocks UV rays and is strengthened by an interlayer of polyvinyl butyral (PVB).
A wipe-clean soft-touch liner adds comfort and convenience and is now easier to clean thanks to a new blended material. The interior liners seal-out unwanted cab noise and deliver a premium level of fit and finish.
With truck-like quality and style, additional convenience features include interior push button door handle, exterior flush paddle handle, built-in storage compartment, pre-designated mounts for speakers. Customize your RANGER® premium doors with exterior color-matched accent panels (pictured, sold separately).
Pre-designated interior door speaker location, integrated panels allow color-matching or customization. This is a RANGER Pro Shield™ Cab System Component
Overview & Specs
Completes your cab enclosure for a quiet and comfortable cab environment Automotive-quality style
Provide easy on & easy off after initial installation
Crank windows
1" Tubular Steel Frame
Injected-molded rigid plastic construction
Laminate safety glass that includes a UV-blocking layer
Built-in storage compartment
Exterior and interior door handle
Requires front doors when using on a Crew model
| | |
| --- | --- |
| Color | Black |
| Material | Poly |
| Other Specifications | Components with the RANGER® Pro Shield™ nameplate assemble to provide the industry-leading best dust, water and noise reduction. |
| Required Sold Separately | Rear Doors Require a Set of Front Doors |
| Warranty | Warranty Information |
| LTL | This item ships freight shipping only, and will require an appointment for delivery. |
Designed to Fit
RGR
2022 RANGER CREW XP 1000 NorthStar Big Game Edition
2022 RANGER CREW 1000 Premium - Winter Prep Package
2022 INTL RANGER CREW XP 1000 Premium
2021-2023 RANGER CREW XP 1000 NorthStar Edition Ultimate
2021-2023 RANGER CREW XP 1000 NorthStar Edition Trail Boss
2021-2023 RANGER CREW XP 1000 NorthStar Edition Premium
2021-2022 RANGER CREW XP 1000 Waterfowl Edition
2021-2022 RANGER CREW XP 1000 Trail Boss
2021-2022 RANGER CREW XP 1000 Big Game Edition
2020-2023 RANGER CREW XP 1000 Premium
2020-2023 RANGER CREW 1000 Premium
2020-2022 RANGER CREW XP 1000 Texas Edition
2020-2022 RANGER CREW XP 1000 High Lifter Edition
2020-2022 RANGER CREW 1000
2020 RANGER CREW XP 1000 NorthStar Ultimate
2020 RANGER CREW XP 1000 NorthStar Premium
2020 RANGER CREW XP 1000 EPS NorthStar Edition
2020 RANGER CREW 1000 EPS
2019 RANGER CREW® XP 1000 EPS Northstar HVAC Edition
2019 RANGER CREW® XP 1000 EPS High Lifter Edition
2019 RANGER CREW® XP 1000 EPS Back Country Edition
2019 RANGER CREW XP® 1000 EPS Premium
2019 RANGER CREW XP® 1000 EPS 20th Anniversary Edition
2019 RANGER Crew XP® 1000 EPS
Guides & Manuals
Part Number History
2889812 supersedes 2889625
2889625 supersedes 2883437
Save this product for later