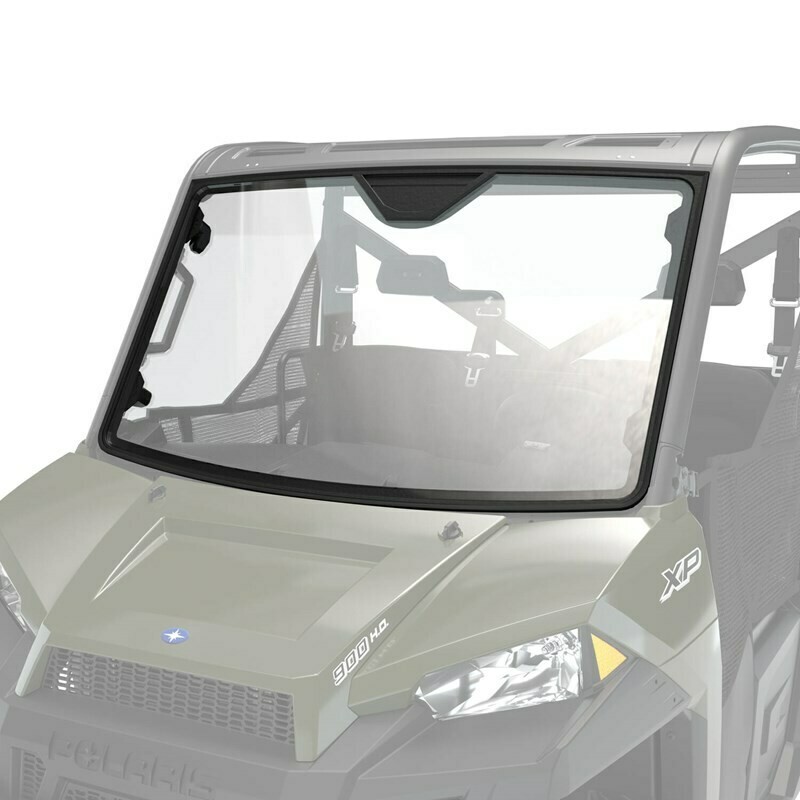 Polaris RANGER Lock & Ride Clear Full Glass Windshield - 2889030
2889030
Product Details
Description
Nothing is better than a perfect sunny day and your Polaris® side-by-side®, but the skies above always throws us a few curve balls, which is why an easy install, Lock & Ride® Full Glass Windshield is our homerun response. The durable automotive glass and perfectly sealed design ensures superior clarity and toughness while shielding you from every weather pitch she can throw, making for a vastly more comfortable ride. Plus it's easy to remove when the sun returns.
A side-by-side® Pro Shield™ Cab System Component
Overview & Specs
One Glass Full Windshield
Scratch-resistant, curved laminate safety glass
Protects against wind, rain and other hazardous debris
UV-blocking interlayer and 360 degree gasket seal
Color

Transparent

Material

Laminate safety glass contains an interlayer of polyvinyl butyral (PVB) blocks UV rays

Other Specifications

Lock & Ride® Technology - easy on & easy off and fits perfectly into the ROPS, curved glass design, 360° gasket seal, improved visibility.

Components with the RANGER® Pro Shield™ nameplate assemble to provide the industry-leading best dust, water and noise reduction.

Ease Of Installation

Easy

Recommended With

Pro Shield™ Roof, Rear Panel, Doors to complete your Pro Shield™ Cab System

Care And Cleaning

Occasionally wash with mild soap and water

Warranty

Warranty Information

Subbed From

2878854,2879269,2882191

LTL

This item ships freight shipping only, and will require an appointment for delivery.

What's Included
Includes all necessary mounting hardware and instructions

Designed to Fit
RGR

2021 RANGER XP 1000 Trail Boss
2021 RANGER XP 1000 NorthStar Edition Ultimate
2021 RANGER XP 1000 NorthStar Edition Trail Boss
2021 RANGER XP 1000 NorthStar Edition Premium
2021 RANGER CREW XP 1000 Trail Boss
2021 RANGER CREW XP 1000 NorthStar Edition Ultimate
2021 RANGER CREW XP 1000 NorthStar Edition Trail Boss
2021 RANGER CREW XP 1000 NorthStar Edition Premium
2021 INTL RANGER 1000 EPS Nordic Pro SE
2020-2021, 0 RANGER 1000 Premium
2020-2021 RANGER XP 1000 Texas Edition
2020-2021 RANGER XP 1000 Premium
2020-2021 RANGER XP 1000 High Lifter Edition
2020-2021 RANGER Diesel
2020-2021 RANGER CREW XP 1000 Texas Edition
2020-2021 RANGER CREW XP 1000 Premium
2020-2021 RANGER CREW XP 1000 High Lifter Edition
2020-2021 RANGER CREW 1000 Premium
2020-2021 RANGER CREW 1000
2020-2021 RANGER 1000 EPS
2020-2021 RANGER 1000
2020 RANGER XP 1000 NorthStar Ultimate
2020 RANGER XP 1000 NorthStar Premium
2020 RANGER XP 1000 NorthStar Edition
2020 RANGER CREW XP 1000 NorthStar Ultimate
2020 RANGER CREW XP 1000 NorthStar Premium
2020 RANGER CREW XP 1000 EPS NorthStar Edition
2020 RANGER CREW 1000 EPS
2019 RANGER XP® 900 EPS Premium
2019 RANGER XP® 900 EPS
2019 RANGER XP® 1000 EPS Premium
2019 RANGER XP® 1000 EPS HVAC Northstar Edition
2019 RANGER XP® 1000 EPS Back Country Edition
2019 RANGER XP® 1000 EPS 20th Anniversary Edition
2019 RANGER CREW® XP 900 EPS
2019 RANGER CREW® XP 1000 EPS Northstar HVAC Edition
2019 RANGER CREW® XP 1000 EPS High Lifter Edition
2019 RANGER CREW® XP 1000 EPS Back Country Edition
2019 RANGER CREW XP® 1000 EPS Premium
2019 RANGER CREW XP® 1000 EPS 20th Anniversary Edition
2019 RANGER Crew XP® 1000 EPS
2018-2019 RANGER XP® 1000 EPS High Lifter Edition
2018 RANGER XP® 1000 EPS NorthStar HVAC Edition
2017-2019 RANGER XP® 900
2017-2019 RANGER XP® 1000 EPS
2017-2019 RANGER CREW® XP 900
2017-2018 RANGER® Diesel
2017 RANGER XP® 1000
2017 RANGER CREW® XP 1000 EPS
2017 RANGER CREW® XP 1000
2017 RANGER CREW® Diesel
2016, 2013 BRUTUS
2016 RANGER XP 570
2016 RANGER DIESEL HST DELUXE
2016 RANGER Diesel HST
2016 RANGER CREW XP 900-6 EPS
2016 RANGER CREW XP 570-6 EPS
2016 RANGER CREW XP 570-6
2016 RANGER CREW 900-5 EPS
2016 RANGER CREW 900-5
2015-2016, 2013 BRUTUS HDPTO
2015-2016 RANGER DIESEL
2015-2016 RANGER CREW DIESEL
2015 RANGER CREW 900 EPS
2015 RANGER CREW 900
2015 RANGER CREW 570 Full-Size
2015 RANGER CREW 570 EPS Full-Size
2015 RANGER 570 Full-Size
2015 RANGER 570 EPS Full-Size
2014 RANGER XP 900 DELUXE
2014 BRUTUS® HDPTO
2014 BRUTUS®
2013-2016 RANGER XP 900 EPS
2013-2016 RANGER XP 900
2013 BRUTUS HD
CMV
2020 PRO XD 4000G AWD
2020 PRO XD 2000G AWD
2020 PRO XD 2000D AWD
2019-2020 PRO XD 4000D
2019 PRO XD
Guides & Manuals
Save this product for later