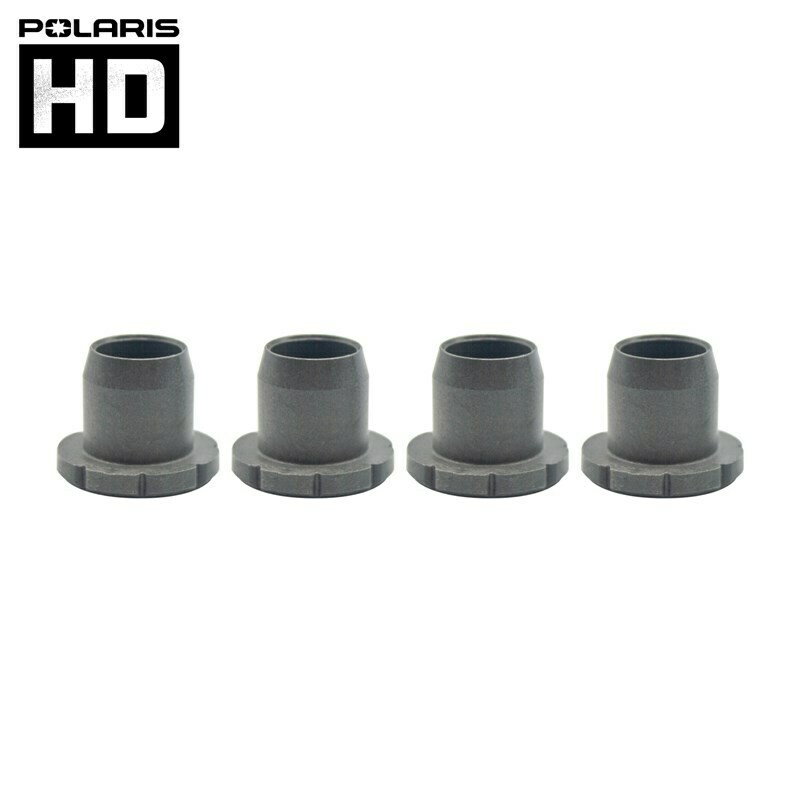 Polaris Heavy Duty Bushing with Seal, Assembly
1543367
Product Details
Description
Tackle extreme jobs on the toughest terrain with this industry-first Heavy Duty bushing designed to take you further than ever before. Its innovative two-part construction gives this bushing a tighter tolerance and a better seal that enables your vehicle to traverse mud, sand, or extreme temperatures without putting critical components at risk. Ideal for heavy payloads and riders that push their vehicles to the limits, these bushings put your mind at ease while extending the life of your vehicle.
Overview & Specs
Specifically designed by Polaris engineers for riders who push their vehicles to the limit in work or play
Cutting-edge material and unique construction results in a bushing that leads the pack for durability and performance
Save money by reducing downtime by equipping your vehicle with wear parts that far exceed industry benchmarks
Ideal for vehicles with large tires or/and heavy payloads
Proper fastener installation torque is a critical to bushing performance and life, consult your Polaris service manual when installing.
Designed to Fit
ATV
2021, 2019, 2017 Sportsman® Touring 570 EPS
2021, 2018 Sportsman® XP 1000 Hunter Edition
2021, 2017-2019 Sportsman® Touring XP 1000
2021, 2017-2019 Sportsman® Touring 570
2021, 2017-2019 Sportsman® 850 High Lifter Edition
2021, 2017-2019 Sportsman® 850
2021, 2017-2019 Scrambler® 850
2021 Sportsman® XP 1000 High Lifter Edition
2021 Sportsman® XP 1000
2021 Sportsman® Touring 850
2021 Sportsman® Touring 570 Premium
2021 Sportsman® 850 Premium
2021 Sportsman 850 Ultimate Trail
2021 INTL Sportsman® Touring 570 EPS SP
2021 INTL Sportsman® Touring 570 EPS
2021 INTL Scrambler 1000 EPS [Quad L7e]
2020, 2015-2016 Sportsman Touring XP 1000
2020, 2015-2016 Sportsman 850
2020, 2015-2016 Scrambler 850
2020, 2015 Sportsman Touring 570 EPS
2020, 2015 Sportsman Touring 570
2020, 2014-2015 Scrambler XP 1000 EPS
2020 Sportsman XP 1000 Premium
2020 Sportsman XP 1000 Hunter Edition
2020 Sportsman XP 1000 High Lifter Edition
2020 Sportsman Touring 850
2020 Sportsman Touring 570 Premium
2020 Sportsman Touring 570 EPS SP
2020 Sportsman 850 Premium LE
2020 Sportsman 850 Premium
2020 Sportsman 850 High Lifter Edition
2019, 2017 Sportsman® Touring 570 SP
2019 Sportsman® 850 SP Premium
2019 Sportsman® 570 SP Hunter Edition
2019 Sportsman XP® 1000 Premium
2019 Sportsman XP® 1000 Hunter Edition
2017-2019 Sportsman® Touring 850 SP
2017-2019 Sportsman® 850 SP
2017-2019 Sportsman XP® 1000 High Lifter Edition
2017-2019 Sportsman XP® 1000
2017-2018 Sportsman® 570 SP
2017-2018 Scrambler XP® 1000
2017 Sportsman XP® 1000 LE
2016 Sportsman XP 1000 High Lifter
2016 Sportsman 850 High Lifter
2016 Scrambler XP 1000
2015-2016 Sportsman XP 1000
2015-2016 Sportsman Touring 850 SP
2015-2016 Sportsman Touring 570 SP
2015-2016 Sportsman 850 SP
2015-2016 Sportsman 570 SP
2014 Sportsman XP 850 HO EPS
2014 Sportsman XP 850
2014 Sportsman X2 550 EPS
2014 Sportsman Touring 850 EPS
2014 Sportsman Touring 570 EFI
2014 Sportsman Touring 550 EPS
2014 Sportsman 550 EPS
2014 Scrambler XP 850
RGR
2021, 2015 RANGER CREW 570 Full-Size
2021, 2015 RANGER CREW 570
2021 RANGER CREW 570 Premium
2021 RANGER 570 Premium
2021 RANGER 500 4X2
2020-2021, 2015-2016 RANGER 570 Full-Size
2020-2021, 2015-2016 RANGER 570
2020-2021, 2014 RANGER EV
2020-2021 RANGER 500
2020, 2016 RANGER CREW 570-6
2020, 2016 RANGER CREW 570-4
2020, 2014-2016 RANGER 570 EPS
2020 RANGER CREW 570-4 Premium
2019 RANGER® 570 EPS
2019 RANGER XP® 900 EPS Premium
2019 RANGER XP® 900 EPS
2019 RANGER CREW® XP 900 EPS
2019 RANGER CREW® 570-4 EPS
2019 RANGER 570 HD
2018-2019, 2016 RANGER® EV
2018 RANGER XP® 1000 EPS High Lifter Edition
2018 RANGER EV LI-ION
2017-2019 RANGER® 570 Full-Size
2017-2019 RANGER® 570
2017-2019 RANGER® 500
2017-2019 RANGER XP® 900
2017-2019 RANGER CREW® XP 900
2017-2019 RANGER CREW® 570-6
2017-2019 RANGER CREW® 570-4
2017-2018 RANGER® Diesel
2017-2018 RANGER CREW® XP 1000
2017-2018 RANGER CREW® Diesel
2017 RANGER XP® 1000 EPS
2017 RANGER XP® 1000
2017 RANGER CREW® XP 1000 EPS
2016, 2013 BRUTUS
2016 RANGER XP 570
2016 RANGER DIESEL HST DELUXE
2016 RANGER Diesel HST
2016 RANGER CREW XP 900-6 EPS
2016 RANGER CREW XP 570-6 EPS
2016 RANGER CREW XP 570-6
2016 RANGER CREW 900-5 EPS
2016 RANGER CREW 900-5
2016 RANGER CREW 570-4 EPS
2015-2016, 2013 BRUTUS HDPTO
2015-2016 RANGER ETX
2015-2016 RANGER DIESEL
2015-2016 RANGER CREW DIESEL
2015 RANGER CREW 900 EPS
2015 RANGER CREW 900
2015 RANGER CREW 570 EPS Full-Size
2015 RANGER 570 EPS Full-Size
2014-2015 RANGER CREW 570 EPS
2014-2015 RANGER CREW 570 EFI
2014 RANGER XP 900 DELUXE
2014 RANGER 800 EPS Midsize
2014 RANGER 800 EPS
2014 RANGER 800 EFI Midsize
2014 RANGER 800 EFI
2014 RANGER 6x6 800
2014 RANGER 570 EFI
2014 RANGER 400
2014 BRUTUS® HDPTO
2014 BRUTUS®
2013-2016 RANGER XP 900 EPS
2013-2016 RANGER XP 900
2013 BRUTUS HD
RZR
2020-2021 RZR Trail 570 Premium
2020-2021 RZR Trail 570
2020 RZR Trail S 900 Premium
2020 RZR Trail S 1000
2020 RZR 900 FOX Edition
2018-2019 RZR® 570 EPS
2017-2019 RZR® 570
2017 RZR® S 570 EPS
2016 RZR XP Turbo EPS
2016 RZR XP 4 Turbo EPS
2016 RZR S 1000 EPS
2015-2016 RZR S 900 EPS
2015-2016 RZR S 900
2015-2016 RZR 4 900 EPS
2014-2016 RZR XP 1000 EPS
2014-2016 RZR 570 EPS
2014 RZR 900 EPS
2014 RZR 900
2013-2016 RZR 570
ACE
2019 ACE 900 XC
2019 ACE 570
2019 ACE 500
2017-2018 ACE® 900 XC
2017-2018 ACE® 570
2017-2018 ACE® 500
2017 ACE® 570 SP
2016 Polaris ACE 900 SP
2016 Polaris ACE 570 SP
2015-2016 Polaris ACE 570
2014-2016 Polaris ACE
Save this product for later