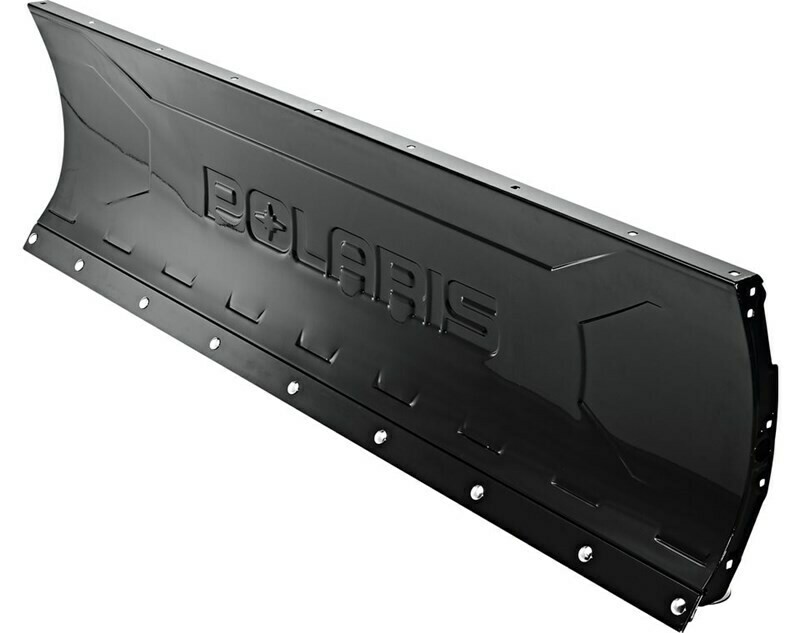 Polaris Glacier® Plow Blade - 60" Steel
2879638
Product Details
Description
The Polaris Glacier Plow Blade - 60 in. Steel is built to handle the toughest plowing jobs. Made of sturdy steel, it carves a wide path through snow and drifts, allowing you to get the job done more efficiently. Its extra-tall design keeps snow from spilling over the top, and lets you pile it even higher.
Overview & Specs
One (1) Glacier Plow Blade - 60 in. Steel
Unlocks the full snowplowing potential of your Polaris ATV
Extra-tall design allows for more efficient plowing
Built from durable 14-gauge steel
Simple to install/remove with Lock & Ride technology
Requires Plow Mount, Plow Frame, Winch (sold separately)
60 in. x 4.75 in. x 16.75 in.
| | |
| --- | --- |
| Color | Black |
| Material | 14 gauge Steel |
| Other Specifications | Lock & Ride® Technology - easy on & easy off |
| Ease Of Installation | Medium |
| Required Sold Separately | Plow Mount, Plow Frame, Winch |
| Product Dimensions | 60'' x 4.75'' x 16.75'' |
| Care And Cleaning | Occasionally wash with mild soap and water to remove any debris |
| Warranty | Warranty Information |
| LTL | This item ships freight shipping only, and will require an appointment for delivery. |
Designed to Fit
ATV
2021, 2019, 2017 Sportsman® Touring 570 EPS
2021, 2019, 2017 Sportsman® 570 EPS
2021, 2019, 2017 Sportsman® 450 H.O. EPS
2021, 2019 Sportsman® 6x6 570
2021, 2018 Sportsman® XP 1000 Hunter Edition
2021, 2017-2019 Sportsman® X2 570
2021, 2017-2019 Sportsman® Touring XP 1000
2021, 2017-2019 Sportsman® Touring 570
2021, 2017-2019 Sportsman® 850 High Lifter Edition
2021, 2017-2019 Sportsman® 850
2021, 2017-2019 Sportsman® 570
2021, 2017-2019 Sportsman® 450 H.O.
2021, 2017-2019 Scrambler® 850
2021 Sportsman® XP 1000 S
2021 Sportsman® XP 1000 High Lifter Edition
2021 Sportsman® XP 1000
2021 Sportsman® Touring 850
2021 Sportsman® Touring 570 Premium
2021 Sportsman® 850 Premium
2021 Sportsman® 570 Ultimate Utility
2021 Sportsman® 570 Premium
2021 Sportsman 850 Ultimate Trail
2021 Sportsman 570 Ultimate Trail
2021 Sportsman 570 Trail
2021 Sportsman 570 SP Hunter Edition
2021 Scrambler® XP 1000 S
2021 INTL Sportsman® XP 1000 S EPS
2021 INTL Sportsman® X2 570 EPS
2021 INTL Sportsman® Touring 570 EPS SP
2021 INTL Sportsman® Touring 570 EPS
2021 INTL Sportsman® 570 EPS SP
2021 INTL Sportsman® 570 EPS SE
2021 INTL Sportsman® 570 EPS Hunter Edition
2021 INTL Sportsman® 570 EPS Black Edition
2021 INTL Scrambler® XP 1000 S EPS
2021 INTL Scrambler® 1000 S EPS
2021 INTL Scrambler 1000 EPS [Quad L7e]
2020, 2015-2016 Sportsman Touring XP 1000
2020, 2015-2016 Sportsman Touring 570 EPS
2020, 2015-2016 Sportsman Touring 570
2020, 2015-2016 Sportsman 850
2020, 2015-2016 Sportsman 570
2020, 2015-2016 Scrambler 850
2020, 2014-2016 Sportsman 570 EPS
2020, 2014-2015 Scrambler XP 1000 EPS
2020 Sportsman XP 1000 S
2020 Sportsman XP 1000 Premium
2020 Sportsman XP 1000 Hunter Edition
2020 Sportsman XP 1000 High Lifter Edition
2020 Sportsman X2 570 EPS Tractor
2020 Sportsman X2 570
2020 Sportsman Touring 850
2020 Sportsman Touring 570 Premium
2020 Sportsman Touring 570 EPS SP
2020 Sportsman 850 Premium LE
2020 Sportsman 850 Premium
2020 Sportsman 850 High Lifter Edition
2020 Sportsman 6x6 570 EPS
2020 Sportsman 570 Premium LE
2020 Sportsman 570 Premium
2020 Sportsman 570 EPS SP
2020 Sportsman 570 EPS Hunter Edition
2020 Sportsman 570 EPS Agri-Edition
2020 Sportsman 450 EPS
2020 Sportsman 450
2020 Scrambler XP 1000 S
2019, 2017 Sportsman® Touring 570 SP
2019 Sportsman® 850 SP Premium
2019 Sportsman® 570 SP Hunter Edition
2019 Sportsman® 570 EPS LE
2019 Sportsman® 450 H.O. EPS Utility Edition
2019 Sportsman® 450 H.O. EPS LE
2019 Sportsman XP® 1000 Premium
2019 Sportsman XP® 1000 Hunter Edition
2018 Sportsman® 6x6
2018 Sportsman® 450 HO Utility Edition
2017-2019 Sportsman® Touring 850 SP
2017-2019 Sportsman® 850 SP
2017-2019 Sportsman® 570 SP
2017-2019 Sportsman® 570 EPS Utility Edition
2017-2019 Sportsman XP® 1000 High Lifter Edition
2017-2019 Sportsman XP® 1000
2017-2018 Scrambler XP® 1000
2017 Sportsman® 6x6 BIG BOSS 570 EPS
2017 Sportsman® 450 H.O. Utility Edition
2017 Sportsman XP® 1000 LE
2016 Sportsman 450 HO EPS
2016 Sportsman 450 HO
2016 Scrambler XP 1000
2015-2016 Sportsman XP 1000
2015-2016 Sportsman X2 570 EPS
2015-2016 Sportsman Touring 850 SP
2015-2016 Sportsman Touring 570 SP
2015-2016 Sportsman ETX
2015-2016 Sportsman 850 SP
2015-2016 Sportsman 570 SP
2014, 2010-2012 Sportsman Touring 850 EPS
2014, 2009-2012 Sportsman XP 850
2014 Sportsman X2 550 EPS
2014 Sportsman Touring 570 EFI
2014 Sportsman Big Boss 6X6 800
2014 Sportsman 570 EFI
2013-2014 Sportsman XP 850 HO EPS
2013-2014 Sportsman 550 EPS
2013-2014 Scrambler XP 850
2013 Sportsman XP 850 HO
2013 Sportsman Touring 850 HO EPS
2013 Sportsman 550
2013 Scrambler XP 850 EPS
2011-2014 Sportsman 800 EFI
2011-2014 Sportsman 400 HO
2011-2013 Sportsman Touring 500 HO
2011-2013 Sportsman Big Boss 800 6X6
2011-2013 Sportsman 500 HO
2011-2012 Sportsman X2 850
2010-2014 Sportsman Touring 550 EPS
2010-2013 Sportsman X2 550
2009-2012 Sportsman XP 850 EPS
2009-2012 Sportsman XP 550 EPS
2009-2012 Sportsman XP 550
RGR
ACE
2019 ACE 900 XC
2019 ACE 570
2019 ACE 500
2017-2018 ACE® 900 XC
2017-2018 ACE® 570
2017-2018 ACE® 500
2017 ACE® 570 SP
2016 Polaris ACE 570 SP
2015-2016 Polaris ACE 570
2014-2016 Polaris ACE
Guides & Manuals
Save this product for later